At The Plumbing and Gas Guys, we have an extensive product and stock range of all types of hot water systems from the best brands in the industry. We subscribe to the highest standard and only offer the best products from trusted hot water system manufacturers. As experienced master plumbers and gas fitters, we know all the ins and the outs of hot water systems. That's why you can be sure that you are getting the best service possible when it comes to new systems or hot water replacements.
We don't favour particular hot water system types because we know everyone has different needs and different budgets. Check out the trusted brands we have for all types of hot water systems including electric hot water systems, gas hot water systems, solar hot water systems and heat pumps.
Bosch
Bosch is one of the leading suppliers of technology and services in the world. Their building and energy technology focus on commercial and domestic hot water & heating solutions, as well as security systems.  Bosch hot water systems are among the most economical to run, boasting high energy efficiency ratings. They have a wide range of hot water systems including Gas Continuous Flow, Electric Storage and Heat Pumps. Their systems are also recipients of some major accolades like the 2011  ECO Buy Awards which was given to Bosch 32 Lt/Min Condensing, Electric Ignition gas hot water system. Bosch also offers up to 10 years of product manufacturer warranty.
Dux
Dux is a local and iconic Australian brand focused on the research and development of efficient and reliable hot water systems with long life spans. Dux is owned by Noritz, an international brand and Japan's leading manufacturer of residential and commercial water heaters. Considered Australia's most highly awarded range of water heater solutions, Dux provides a huge selection of units designed to match each purpose.  Their products include Electric Storage, Gas Storage, Continuous Flow, Gas Boosted Solar, Electric Boosted Solar and Air Sourced Heat Pump. Dux also offers up to 10 years of product manufacturer warranty.
Quantum
Quantum is an expert in Solar Heat Pump water heating. They are a local Australian brand focused on developing innovative and energy-efficient water heating technology. They manufacture a range of eco-friendly heat pumps and electric hot water systems for domestic and commercial use. At one point, Quantum heat pumps had the highest hot water recovery rate in the heat pump market. If you want an energy-efficient and reliable hot water system, then Quantum may be for you. We are proud of our relationship with Quantum which allows us to buy in bulk and pass on discounts to our customers. If you are looking for a price-conscious installation, then you need to look no further. Quantum also offers up to 5 years of product manufacturer warranty.
Rheem
Rheem is the largest producer of water heaters in Australia. Its brands include Rheem, Solahart, Vulcan, Aquamax, Raypak and Everhot. All Rheem products are popular but the most well-known hot water system is the Rheem Stellar 300 and 360 Lt systems which comes with a 10-year product manufacturer warranty. However, Rheem also has great tankless/continuous and instant hot water systems that work well solar hot water systems to provide energy-efficient systems. And because we purchase in bulk here at The Plumbing and Gas Guys, we can pass on the savings to our customers.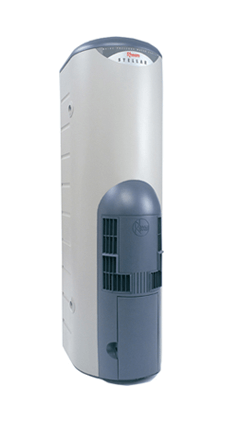 Rinnai
Rinnai Australia is part of the global Rinnai group of companies, the world's most advanced heating and hot water systems. All Rinnai systems are multi-purpose and can run on both natural gas and LPG. Their tankless/continuous and instant hot water systems are popular with commercial applications such as kitchens and buildings where multiple units may be banked together to ensure adequate hot water services are available to meet demand. These types of units do not grow bacteria or become scaled as opposed with cylinder based hot water systems – making the water always fresh and the cost of maintaining the system over time typically lower.
View TPAGG Rinnai Product Stock Range Here
Stiebel Eltron
Stiebel Eltron is a German manufacturer of green, energy-efficient instant hot water systems, hot water and hydronic heating heat pumps, heat recovery ventilation systems, space heaters and water filters. Their three-phase electric instant hot water system is electronically controlled to maintain water delivery temperature; while their open-vented, under-bench main pressure water heaters deliver hot water quickly to multiple sinks or basins. These types of water heaters eliminate long runs of pipework for isolated sinks and basins and can greatly reduce the waiting time for hot water to arrive at the outlet. Stiebel Eltron also offers up to 5 years of product manufacturer warranty.
Thermann
Thermann is one of the fastest-growing hot water brands in Australia and New Zealand. Thermann supplies Australian homes and businesses with a range of top-quality hot water systems including continuous flow, solar hot water, and gas and electric storage tanks. The Australian made Thermann Electric Storage hot water systems heat water in an insulated tank by an electric element. They're quick and easy to install and are available in a wide range of sizes to suit your needs. Thermann also offers up to 7 years of product manufacturer warranty.
View TPAGG Therman Product Stock Range Here
Vulcan
Vulcan offers high-quality product performance at a very affordable price. Our Vulcan hot water systems are powered by clean-burning, efficient natural gas or by solar power. The Vulcan storage cylinder is made from high strength steel able to withstand varying water and heating cycle pressures. The balanced flue and durable steel jackets make Vulcan gas models easy to install and easy to live with. Vulcan also offers up to 5 years of product manufacturer warranty.
Wilson
Wilson is a local Australian provider of customised hot water products. They are an accredited pressure vessel manufacturer and can custom build vessels from either copper or stainless steel to client requirements. Their products range from Commercial Pressure Vessels, Domestic Mains Pressure Water Heaters, Domestic Open Vented/Gravity Feed Water Heaters, HVAC Products, Dairy Water Heaters and Solar Pre Heaters, Boing and Chilled Water Systems, Instantaneous Electric Water Heaters and Marine Hot Water Systems.
View TPAGG Wilson Product Stock Range Here
To discuss your hot water and plumbing concerns, connect with The Plumbing and Gas Guys on 1800 087 244. We sell hot water systems, and our licensed plumber, gas fitters and electricians will do the installations as well as the maintenance and repair of these systems to ensure quality work. We specialise in all the major brands of hot water systems and heat pumps including Bosch, Dux, Quantum, Rheem, Rinnai, Stiebel Eltron, Thermal, Vulcan and Wilson.
All of our work is completed by fully qualified Plumbers and Gas Fitting technicians in Perth. Rest assured, work is certified and the required paperwork submitted to the governing bodies as required.  No installation is too difficult, too big or too small; we can manage both domestic and commercial hot water installations of any size and complexity.
Take advantage of our FREE over-the-phone Quotation, as well as our No Call Out Fee on all jobs! Call us now!